Program series NachWieVor
dance performance & age(ing)
As part of the networking and exchange project NachWieVor | dance performance & age(ing), curated by Barbara Fuchs and Silke Z., we are looking forward to the participatory AudioWalk by the ensemble DanceOn60+ from Munich. Together with artists, scientists and our intergenerational audience, we would like to take a look at age(ing) in this series.
DANCE ON 60+ GEHT RAUS
Introductory workshop with AudioWalk in public space with Andrea Marton (Munich)
Put on your headphones and dance away! DanceOn60+ gets the audience moving: People of all ages are invited to enter into a dance dialogue with each other and with the urban space through the AudioWalk. Each person separately and yet together, the participants are guided through the AudioWalk and Dance with headphones. Andrea Marton's concept underlines her concern to enable the cultural participation of all people.
Concept and artistic direction: Andrea Marton Project manager: Ralf Otto Piano: Lukas Maier Speaker: Ruth Geiersberger Video documentation: Barbara Schröer Technician: Beppo Leichenich Photo: ©Birgit Widhopf
Produktion DanceOn60+ Supported by Erasmus+ Projekt "Creative Aging – culturalengagement instead of social isolation" and Kulturreferat of the LH Munich
Supported by Kulturator | Die Gute Dinge Stiftung
Dates: 18 & 19 June 2022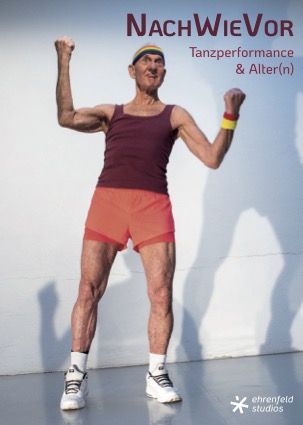 .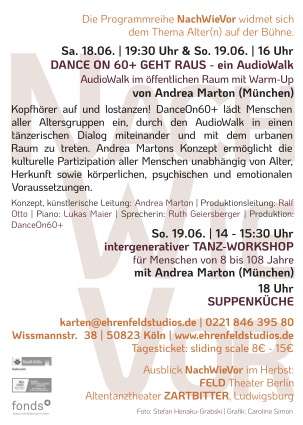 STADTFÜCHSE
In September, the FELD Theatre for Young Audiences (Berlin) is a guest in the NachWieVor programme series.
The research STADTFÜCHSE uses the figure of the fox as a mythical creature to not only deal with the demarcation between humans and animals, but also philosophises and fabulates musically, dancingly and figuratively above all about being human in itself and the relationship of humans to their environment.
Performance + Dance: Ziv Frenkel, Julia Keren Turbahn Performance + Music: Erik Leuthäuser Costume + Space: Jeanne Louët Director + Dramaturgy: Gabi dan Droste Production Manager: Miriam Glöckler Photo: ©SickRick_Photocase
STADTFÜCHSE – Spurensuche
by: Droste, Frenkel, Leuthäuser, Louët, Turbahn
A production by FELD Theatre for Young Audiences.
Supported by the NATIONALE PERFORMANCE NETZ – STEPPING OUT,
sponsored by the Federal Government Commissioner for Culture and
Media within the framework of the initiative NEUSTART KULTUR. Support programme dance.
Dates: 23 & 24 September 2022
BLÜHENDE LANDSCHAFTEN
For the third event in the NachWieVor programme series, we will be hosting the AltentanzTheater Ensemble ZARTBITTER in October.
Together with Lisa Thomas, the artist Justyna Koeke and the choreographer/dancer Pascal Sangl, ZARTBITTER 2022 has embarked on a research. The ensemble moves in the interplay of body, dance and living material: flowers and plants. The installative-choreographic performance adapts to the respective location and thus becomes a unique experience again and again. The ensemble under the artistic direction of Lisa Thomas was founded in 2010 from a group of older people with a special passion for dance theatre.
Choreography: Lisa Thomas, Pascal Sangl Costume: Justyna Koeke Dance: Marion Koch, Roswitha Münchbach, Lilo Mohaupt, Stefan Mohr-Bender, Helmut Rumpf-Hufnagel, Hildegard Schäffler, Gabriele Würch, Eva Schwanitz, Sebastian Hettenkofer, Hans Nau, Renate Denzel
Production: Tanz- und Theaterwerkstatt e.V., the City of Ludwigsburg and the Ministry of Science, Research and the Arts of the State of Baden-Württemberg
Funded by: The project research was supported by Fonds Darstellende Künste with funds from the Federal Government Commissioner for Culture and Media as part of NEUSTART KULTUR.
Dates: 21 & 22 October 2022
TEAM + FUNDING
Artistic direction: Barbara Fuchs, Silke Z.
Production management: Magdalena Schmitt
Administration: Carina Graf
Organisation: Anna Boldt
Communication: Hanna Held
Cooperation partners: kubia (Cologne), DanceOn 60+ (Munich), FELD Theater (Berlin), Tanz- und Theaterwerkstatt (Ludwigsburg)
Press and public relations: Kerstin Rosemann
Graphic design: Caroline Simon
Supported by the Performing Arts Fund with funds from the Federal Government Commissioner for Culture and the Media as part of NEUSTART KULTUR, the Cultural Office of the City of Cologne and the Ministry of Culture and Science of the State of North Rhine-Westphalia.